Introduction
On the 15th March 2020, the President of South Africa declared a National State of Disaster, following the global and national Corona Virus outbreak. At the time, 61 people resident in South Africa had tested positive for the virus (now 150); with the President declaring it the most severe challenge the country been confronted with since the dawn of democracy. Reports on the impact of the virus on the global economy are inconclusive, however there are indications that the global economy is already in recession; although possibly worse than that experienced in the 2008 – 2009 Global Financial Recession (GFR). The worst forecasts for global growth by analysts are around 1% global growth in 2020.
Most importantly for this report, the President announced that COVID-19 will have a significant, potentially lasting impact on the country's economy. It is still too early to provide a detailed impact and growth analysis, however the following considerations provide an idea of the severity of the economic impact:
What is the impact of COVID-19 on Durban's economy?
Negative growth rate
The RSA Reserve Bank forecasts a 0,2% decline in South Africa's GDP in 2020. However, to put this into perspective, the City's economy contracted by 1,3% in 2009 due to the GFR. It was significantly stronger at the time, with a 4,4% growth rate just before the recession. Today's pandemic however, has hammered what may be the final nail in an already anaemic economy, with a growth rate of 0,1% in 2019.
While the GFR impact was due to dampened global and domestic demand, the current recession is due to a combination of this and a forcible restriction on consumer demand. For this reason, the Durban EDGE's economic growth forecast for the City in 2020 is closer to that of Economist Dawie Roodt; between -1% - 3%.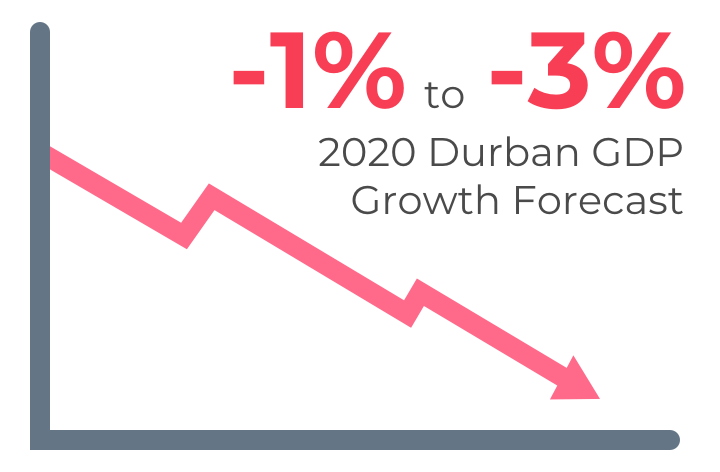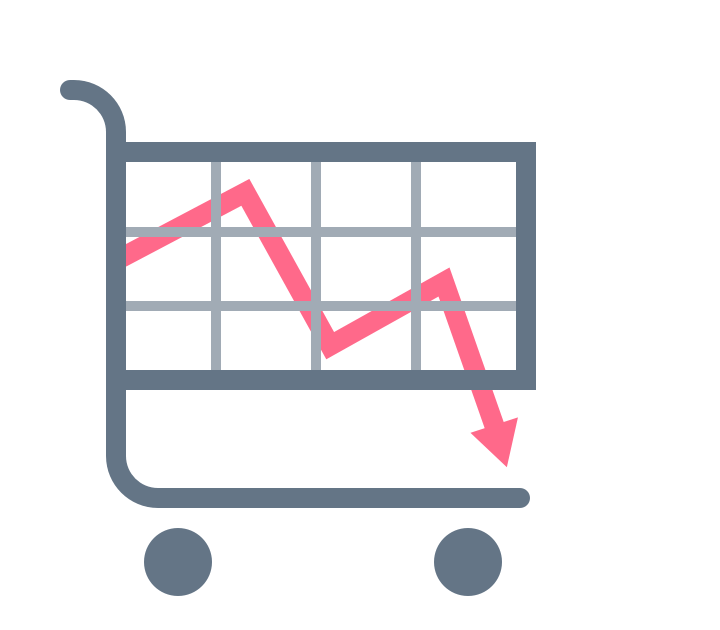 Dampened household expenditure
Due to short term restrictions on social gatherings, group recreational activities, restaurant and bar visits, school, in some cases work, as well as domestic and international travel; we expect significant dampened household demand.
We forecast an initial 5% (or R8 billion) decline in Durban's total household expenditure; the most notable declines being in transport and entertainment. This is balanced out by initial increases in expenditure on food and beverages, pharmaceutical and health products, cleaning products, as well as medical services. However, in the event of a total shutdown (as in the case of Wuhan, Italy, and other badly hit global regions), household expenditure could decline by over R60% (or R98,7 billion); for as long as the virus is actively spread. This is significant because household expenditure is the biggest component of all expenditure making up the City's economy.
Declining exports
Exports contribute 26% to the City's GDP. Countries who have instituted the most significant COVID-19 business lockdown regulations purchase over a fifth (22% or R10,6 bill) of Durban's goods on average. This includes some of the top ten buyers of Durban's goods, such as France, Malaysia, China, and Germany. The impact will be a significant decline in demand from these markets both due to lockdowns, and then a slowdown in economic activity after the pandemic. Even then, some of Durban's buyers such as China are likely worse hit now than they were during the GFR (forecasted to contract by 9% in Q1 2020). At a bill of R2,5 billion of Durban's goods annually, China also happens to be the top buyer of much of Durban's agricultural and agri-processed products such as ores, pulp wood, and copper.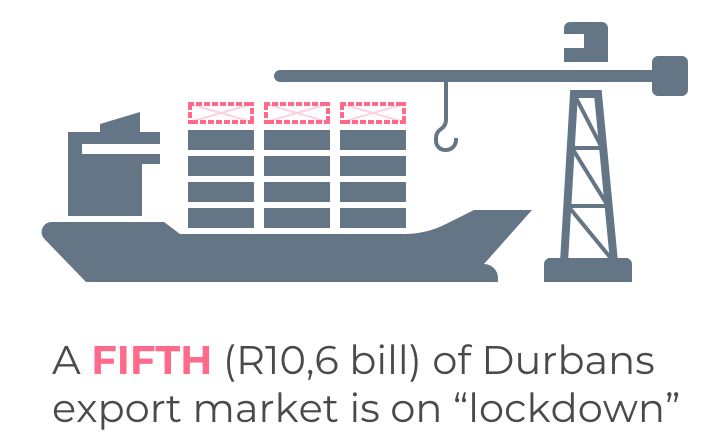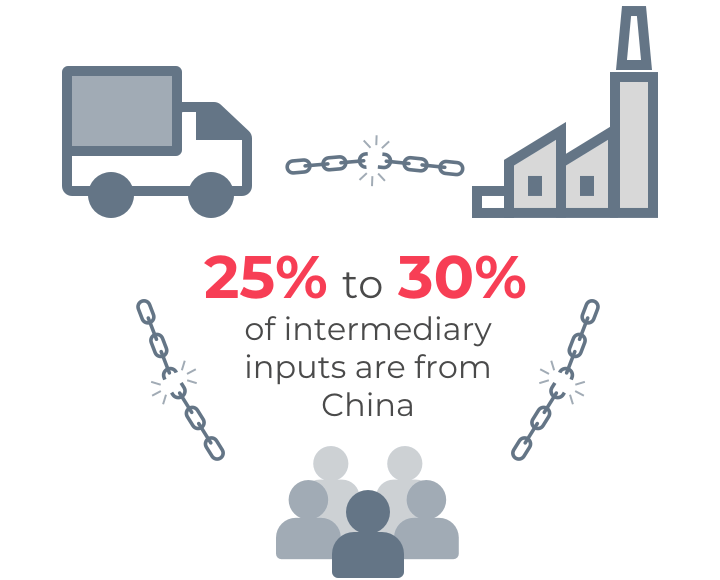 Broken value chains
Value chains in Durban are highly dependent on imported inputs; particularly those from China. An estimate by Bloomberg indicates that 25% - 30% of the country's intermediary inputs are Chinese; meaning this will negatively affect the country and City's exports as well.
China and in particular Wuhan are Durban's top source of machinery and parts, as well as components crucial to production such as nuclear reactors (also Durban's top import from Italy).
China's economy is set to recover slowly however, and inputs from other economies on lockdown may be of more concern.
Drop in tourism
Tourism accounts for much of Durban's economy, with tourists spending R12 billion (or 3% of GDP) in the City annually between 2015 and 2018. However South Africa has cancelled VISAs to numerous countries, including four of those from KZN's top five long haul markets. These include the UK, Germany, USA, France and the Netherlands. Domestic tourists are also expected to decline sharply as the President discouraged non-essential domestic travel, and as the City placed temporary bans on beach sun-bathing, visits to sites such as museums, as well as limits on public spaces such as parks. Key economic assets and already struggling SOEs and business units like uShaka, and Moses Mabhida as well as top MICE attractions like the ICC, are guaranteed a sharp decline in bookings, while hotels and restaurants; already constrained by restrictions on numbers of visitors and sale of alcohol; are expected to lose significant sales.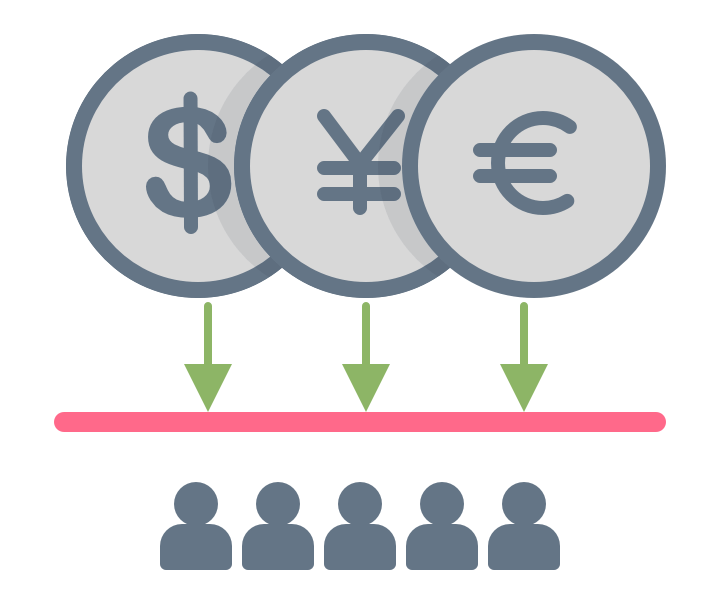 Deteriorating foreign direct investment
Since 2015, Durban has attracted R23,4 billion worth of FDI into the City, which amounts to almost 15% per year of all investments annually. FDI is a life-line to the City, including some of the City's largest and most globally competitive firms such as Toyota, Mara Phone, Mahindra, etc. According to UNCTAD, global investment could decline by 5% - 15% as investors repurpose their plans due to lower profits, and interruptions in supply chains. More than two thirds of the 100 multinational enterprises that UNCTAD tracks as a barometer of overall investment trends, have issued statements on the (negative) impact the virus has had on their business. The worst affected sector is automotive manufacturing; a key investment sector for Durban. Already due to low global growth, FDI in the City declined to R901 mill (its lowest level in over 6 years), meaning the virus could plummet FDI to its lowest level in a decade.
Lost employment
Job losses are expected to be worst in recreational, retail trade and finance sectors. This is particularly because of the temporary and demand driven nature of the jobs in these sectors; restrictions on crowded places such as malls and tourist sites, and in the case of finance, the increasing case for automation.
The impact is worst for employees who cannot work from home, most likely to be low skilled, temporary workers. Further, government has issued social distancing guidelines which advise that households are to avoid non-essential household workers in the home. This means that 10% of all employed people; or 108 000 private household (or domestic) workers in Durban according to StatsSA are now potentially unable to work.
Industries expected to flourish, are those which are already highly automated; such as online shopping, online banking, and communications.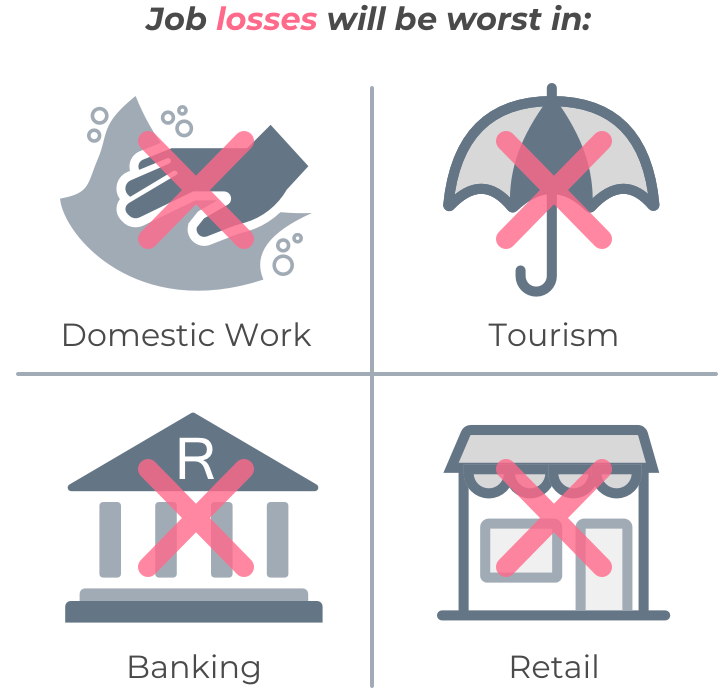 Number of Durban's employed by top 10 industries
Source:
eThekwini Municipality Development and Planning Unit, 2018
Mixed business confidence and business sales
Almost two thirds of businesses surveyed by the Durban Chamber of Commerce and Industry indicated that they expect company profits to decrease, while interestingly a small percentage indicated that they expected an increase in sales.
Of Durban's almost 16,800 mainly formal recorded businesses, almost 1,300 provide relevant medical services and retail; 74 manufacture medical devices, and 9 manufacture pharmaceutical chemical products.
A further 33 manufacture soap and other cleaning compounds. These are the businesses most likely to benefit from the impact of the virus.
What impact do you expect on your company sales and/or profits in 2020 as a result of the COVID-19 pandemic?
(35 Responses)
Of 16,800 businesses surveyed in Durban, these are likely to benefit from increased sales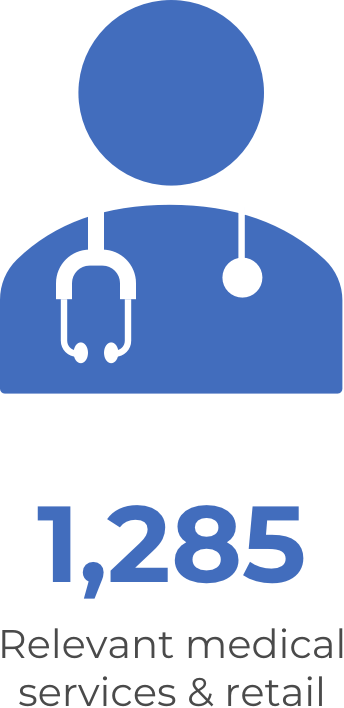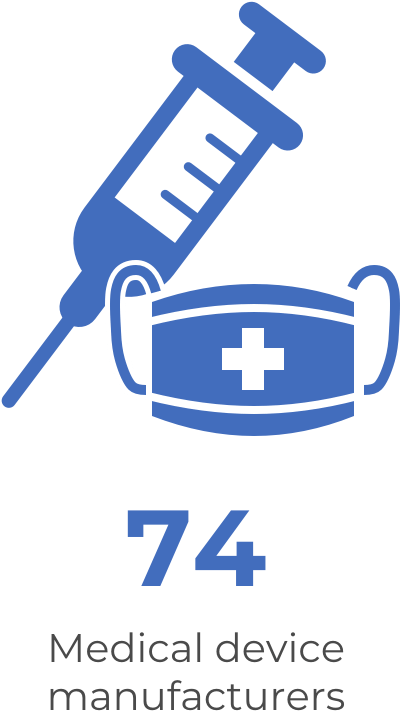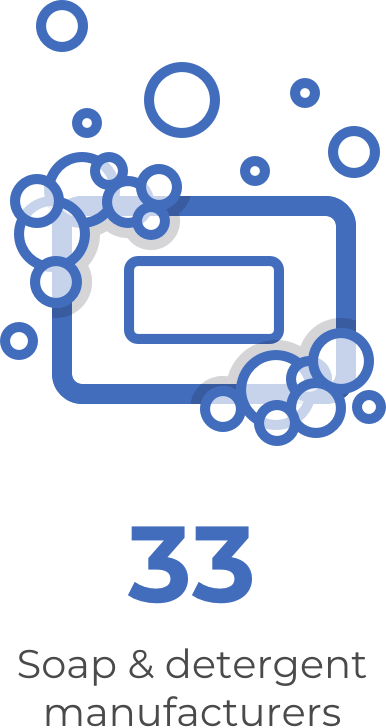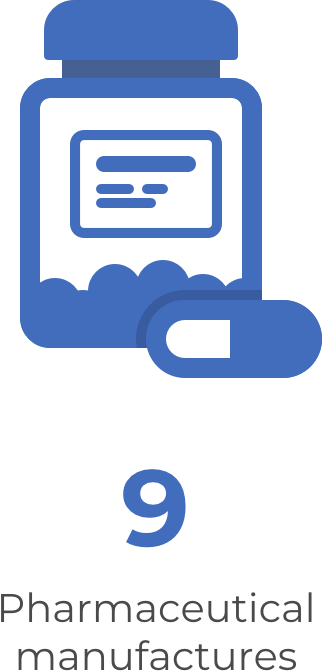 Contingency plans and notable business initiatives
Nonetheless, 85,7% of businesses surveyed by DCCI indicated that they have implemented contingency plans to counteract the impact of the virus on their business, and or to stop the spread within their premises. Over and above this, businesses have also offered their assistance to curb the spread of the disease and its impact of the economy.
A large HR company has offered the City's Communications Unit their in-house video clips on the 'Do's & Don'ts", and instructional video information at no cost, for the City to use, adapt, and disseminate if desired.
An Australian company has offered to supply rapid COVID-19 test kits, high-spec face masks and gloves in large quantities on a commercial basis. These are being intentionally held or kept aside for South African delivery within 7 days, despite enormous global demand.
Conclusion
The impact on Durban's economy will clearly be far-reaching for businesses and labour; both formal and informal. The President is due to announce a national stimulus plan in response. However, because of the City's greater dependence on manufacturing, tourism, and exports than the rest of the country on average, it is important that a tailor-made plan is implemented at the City level.
---
---
Make better informed decisions with cutting-edge economic insight